Rainforest Safari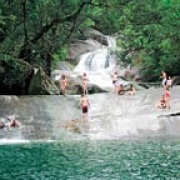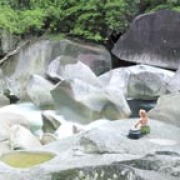 Rainforest Safari
Rainforest Safari
Mamu Rainforest Canopy Walkway
Swimming at Josephine Falls
FROM $215 PER PERSON
---
Inc. all levies & taxes

Rainforest Safari Info
Wooroonooran Rainforest Safaris
visits the largest World Heritage Wet Tropics rainforest in Australia !!. Located just 40mins south from Cairns, the National Park has the 2 highest mountains in Qld, giant waterfalls, and beautiful crystal clear swimming gorges. We also visit a rare and significant Wetland for birdwatching, and we do a crocodile cruise through a mangrove river. Our lunch is a sumptuous buffet with dessert! We specialise in language guided tours, and offer Italian, French, Spanish, German & Japanese guided tours.
Families welcome, babies welcome. Grade: Easy
What makes it great?
Off the beaten tourist track
Josephine Falls and Babinda Boulders
Crocodile cruise
Eubenangee Wetlands
Guided in a variety of languages
Small groups 12 max

You will visit the following 4 locations in one day (depending on seasonal and weather conditions)

Crocodile Cruise Adventure:
Come and take a crocodile river cruise if you dare! See massive crocodiles basking in the sun in their natural domain. Learn about the unusual breeding habits of the giant reptilian beasts. Enjoy some birdwatching along the fringes of ancient mangrove forests, and discover an environment so valuable to the Great Barrier Reef . Enjoy the natural rainforest setting nestled in a World Heritage backdrop.

Roscoes Lunch:
Sit back and enjoy a full sumptuous buffet meal at Rosscoes restaurant in the delightful country town of Innisfail. Choose from a wide variety of salads, vegetable dishes, hot meats, pasta, pizza, and an outstanding buffet of desserts, tea and coffee.

Josephine Falls:
Josephine Falls is a secluded freshwater swimming hole, located at the foot of Queensland's tallest mountain, Mt. Bartle Frere (1622m). Hidden in the tropical rainforest you will find a series of dramatic cascading waterfalls flowing into large pools surrounded by boulders. Rainforest trees hang over the water, keeping it cool and refreshing. Take the plunge in the exciting rockslide and feel revitalised in this refreshing swimming hole (life vests are provided for children). Opportunity for a swim.

Eubenangee Wetlands:
Take an adventure walk through this natural crocodile breeding habitat. Learn all about the amazing breeding cycle of this reptilian beast. Enjoy the spectacular views over this rare & unique protected wetland. Spot Jabirus, Whistling ducks, Egrets, Rainbow Bee Eaters and many other bird species .

Departs: Cairns 07:30, Beaches 07:15
Returns: Cairns 18:00, Beaches 18:30

Tour does not operate on Sunday

Maximum number of passengers/vehicle: 12

As well as English speaking guides, guides are also available in Italian, French, German, Italian, Japanese and Spanish. Please enquire if you require a specific language speaking guide.

In general:
French: Tuesday, Thursday
Italian: Tuesday, Thursday
German: Monday, Wednesday
Spanish: Tuesday, Thursday
English: Every day except Sunday
Japanese: Monday, Wednesday

Make sure to bring your swimmers!
Note: We would like to add that after cyclones or flooding, or any event that renders any of our locations inaccessible or closed for any length of time, that we will be travelling up to the clam tranquil waters of Lake Barrine to do the boat cruise or Devonshire tea, and swim in the lake.