Tusa T6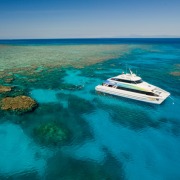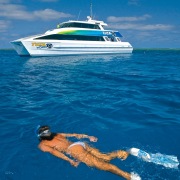 Tusa T6
Super slick T6 Custom Dive Craft
Comfortable New Dive Vessel
Max 60 pax | 2 Outer Reefs
FROM $240 PER PERSON
---
Inc. all levies & taxes




Introductory Diving
Show Rates FROM $310 per adult
Tusa T6 Info
TUSA Dive T6

TUSA Dive are Cairns local day dive operators with more than 25 years experience, and access to more than 16 unique sites on the outer Great Barrier Reef.

Tusa T6 is a 24m Catamaran, limiting passenger numbers to just 60 guests, while the vessel has seating to accommodate 120 passengers.
---
Itinerary:
8:00am daily departure from Cairns Marlin Wharf 'A' Finger (near Reef Fleet Terminal)
90 minute trip to outer reef
4 to 5 hours at two unique locations
4:00- 4.30pm return to Cairns
---
Inclusions:
2 outer reef sites
Buffet style lunch
Morning & Afternoon tea: Tea, coffee, milo ( soup in winter )
Snorkel equipment: Masks (and Prescription mask)
Fins and booties
Floatation vest, lycra suits for warmer months, 5mm shortie wetsuits all year round
FREE guided snorkel tour
Reef talk and presentation
Hot freshwater showers onboard
Reef tax
Reef Sites: Saxon Reef, Jorgey's Patch, Hastings Reef, Michaelmas Reef, Pretty Patches, Thetford Reef, Milln Reef, Flynn Reef, Norman Reef
Snorkelling:
The snorkelling is straight off the back of the Tusa 6, with the reef never more than a short swim away. The crew will give you a thorough brief before you enter the water, and a little instruction about snorkelling for first-timers. A dedicated crew member will be in the water for any that like a little extra assistance, and a Free Guided Snorkel tour with one of the professional divemasters will be offered in the day.
---
Extra Costs:
Return hotel transfers from Cairns and Northern Beach (Trinity Beach, Palm Cove)
Intro or Cert Diving
Nitrox Fills (32%)
Digital Camera Hire
A range of photo-pro package options
Introductory Dive:
Make your reef trip the ultimate experience, and take an 'Intro dive' (Introductory Dive), a PADI Discover Scuba Course.
You do not need to have any experience to participate and all tuition is undertaken on board. You do however need to be at least 12 years old, and be able to pass a medical questionnaire when you board the boat in the morning.
After your briefing and once at the reef, you will be diving right off the back of the boat, at the same sites as the certified divers to maximum of 10 metres depth. You will have the most experienced instructors by your side, and a maximum of three other 'intro' divers. You can expect your dive to last between 20 and 35 minutes, and give you a whole new perspective of the world of fish!
You have the opportunity of a second dive (extra cost) at the day's second reef location, as well as a couple of hours between your dives for snorkelling.
Important things to note for Intro Diving:
You will not be able to dive if you are flying within 12 hours (after one dive) or 24 hours (after 2 dives).

A medical questionnaire must be passed to allow participation in Introductory Diving (PADI Discover Scuba Diving). This questionnaire can be

downloaded here

. If you have any pre-existing medical conditions indicated on the questionnaire or are taking prescribed medications, you will need to complete a diving medical prior to boarding. This medical certification must be in English, declaring you 'Fit to Scuba Dive' and completed by a doctor familiar with dive practices.
Certified Dive:

Tusa have 16 dive sites within a 50 km radius of Cairns, allowing the Skipper to choose the best two sites, for the conditions of the day.
Each site you dive will be unique, allowing you to explore vast coral gardens, caverns, walls and isolated pinnacles, while amazing you with sheer the diversity and colour of marine life.
Tusa Dive offer you the freedom to dive with your buddy or join the guided dives with a divemaster for no addtional charge. Top quality scuba equipment, includes Scubapro regulators and BCDs, Uwatec Aladin Pro dive computers, TUSA Liberators masks and Tusa Imprex fins and booties. Wetsuits are available in all sizes, and include 3mm full length and 5mm shorties, as well as lycra suits if preferred.
Nitrox fills at 32% are available for Nitrox certified divers, when booked in advance.
Important things to note for Cert Diving:
Flying and Diving: Tusa Dive recommends a minimum of 24 hours from the last dive before flying or ascending to an altitude of 300 metres or greater.

Don't forget to bring your certification card

Medical Statement: You will be asked about your current medical fitness to dive. Please provide written medical advice stating that you are fit to dive if:
- Since completing your last dive medical assessment have you suffered any illness or injury that may affect your ability to dive safe.
- You are currently suffering from any illness or injury
- You are currently taking any prescription medication
---
Please Note:
Smokers please note: TUSA 6 is a non-smoking vessel.

Trips are subject to weather conditions and may be cancelled at the discretion of Tusa Dive. Alternative days or refunds will be offered in the event of cancellations by Tusa Dive