Lunch with the Lorikeets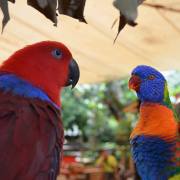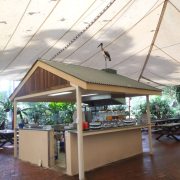 Lunch with the Lorikeets
Wildlife Habitat
Hot and cold lunch buffet
All day entry | Wildlife presentations
FROM $25 PER PERSON
---
Inc. all levies & taxes

Lunch with the Lorikeets Info
Lunch with the Lorikeets
Treat yourself to Lunch with the Lorikeets at Port Douglas' Wildlife Habitat. The sumptuous Lunch with the Lorikeets offers an extensive buffet which guests can enjoy whilst the birds wander freely around you. As well as lorikeets, visitors can expect to meet cockatoos, curlews, parrots, herons, and a host of other unique wildlife.
Opening Hours:
The Wildlife Habitat is open daily, and Lunch with the Lorikeets is available from 12.00pm – 2.00pm every day.

Inclusions:
* All Day entry into the Wildlife Park
* Lunch with the Lorikeets:-
Enjoy a delicious hot and cold lunch buffet in the Wetlands restaurant whilst being visited by wildlife and an accompanying keeper.
Select from:
• Tasty soup of the day with freshly baked breads
• A selection of BBQ steak, sausages, chicken & local reef fish
• A delicious selection of cold meats, fresh salads, and tropical fruits
• Selection of local & herbal teas and coffee
* Keepers Presentation
* Rainforest Feedout Tour
* Wetlands Feedout Tour
* Koala Presentations (optional Souvenir Photos)
* Grassland Tour
Guided Tours
Informative free guided tours occur throughout the day, providing valuable insight to behavioural characteristics of species, their interaction and their role within the Wet Tropics region. Enthusiastic tour guides are trained and experienced in each environment of the Wildlife Habitat.

Guided Tour Times
9:30am Feedout Tour – Rainforest
10:10am Feedout Tour – Wetlands
11:30am Grasslands Tour
1:00pm Feedout Tour – Rainforest
1:40pm Feedout Tour – Wetlands
3:15pm Grasslands Tour
Wildlife Presentations & Animal Photos
Daily animal presentations in the newly built presentation hut allow guests to see and touch animals up close. These presentations provide a learning experience about Pythons, Koalas and Crocodiles. For a close encounter, you can have the opportunity to purchase a souvenir photo holding these captivating creatures.
Animal Presentations and Photo Times
Koala: 10:30am & 2:15pm
Reptile (crocodile & snake): 11:00am & 2:45pm
Wildlife Keeper: 8:30am, 9:30am, 12:30pm and 1:30pm at the Wildlife Cafe Arena