Dan's Mountain Biking- Mulgrave Valley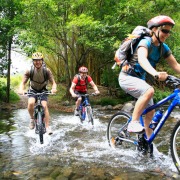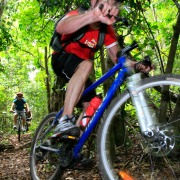 Dan's Mountain Biking- Mulgrave Valley
Cross Country & Downhill Biking
Grade 2/3 with hard core option
Afternoon Pick-up
FROM $90 PER PERSON
---
Inc. all levies & taxes

Dan's Mountain Biking- Mulgrave Valley Info
Dan's Mountain Biking - 1/2 Day Mulgrave Valley

Join Dan as he takes you to the Mulgrave River Valley south of Cairns for a fun half day on a Grade 2/3 ride. This area is renowned for its crystal clear running streams and lush jungle.

We follow the river to its source, progressing from sealed road to deep rainforest single track. Discover a secluded swimming hole (even has a rope swing). End the ride at Pilba Peak Mountain Bike Park with a chance to test out the race course and downhill track (Grade4/5).

Dan is a very experienced rider, with local knowledge of the best trails in the region. He was the mountain bike course designer and leg coordinator for the Discovery Channel Eco-Challenge Race (Australia) in 1997.
---
Departure:
Departs Cairns at 2pm

Return hotel transfers included
---
Included:
Fully guided, moral support and First Aid
Training provided - off-road experience is not necessary
24 Speed Big Foot Norco mountain bikes, helmets and gloves
National park fees
---
What to Bring:
Protective footwear
Cool clothing
Sunscreen
---
PLEASE NOTE:
Half fitness required and must be in good health and able to ride a bike!
Minimum 2 riders
Each participant must accept responsibility for their own safety and their property. Passengers will be asked to sign a liability release form before the trip.
Dan's Mountain Biking reserves the right to change or cancel a trip at any time subject to adverse weather and safety conditions.
GREAT NEWS! All payments made to Travstar do not incur a credit card surcharge.