Cairns Canyoning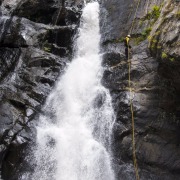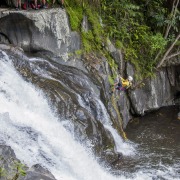 Cairns Canyoning
Cairns Canyoning Adventures
Crystal Canyon Waterfalls & Pools
Abseil, Zip Line, Slide & Jump!
FROM $174 PER PERSON
---
Inc. all levies & taxes

Cairns Canyoning Info
Canyoning Adventure:

Bring out your inner dare devil Canyoning in the rainforest where you abseil, Zip Line, Slide & Jump beside waterfalls and into pools. Crystal Canyon is in a secluded section of Crystal Cascades where the excitement of Canyoning a rocky watercourse can be enjoyed in a safe and controlled environment under the supervision of experienced guides.
Designed for Beginners: This half day adventure is suitable for most fitness levels, including those who cannot swim. Beginners and those who have tried Canyoning before are welcome. Participants are challenged to push their own boundaries with the assistance of specialist guides to support and help conquer your fears.
Small group of up to 12 people: 2 adventure guides (who carry all the heavy equipment required for Canyoning)

The adventure starts at the viewing platform at Devil's Drop, Crystal Cascades where you leave the public access areas, for the higher reaches of the tropical watercourse. This is fed via a series of controlled spillways by Copperlode Dam. After a detailed safety talk and short walk up the track, your first abseil for the day is an 11m controlled descent down the granite rock beside your first waterfall in the spillway section.
Cool off at the bottom in the slippery dip slide that will lead you to where your next challenge awaits...the biggest drop of the day, a 30m abseil down Big Cheese! The course continues with a total of 8 rappels, 3 Jumps, 2 slides and a very cool Zip Line! Along the way you will also have the use of hand lines to ensure you are extra safe while having fun.
This Canyoning adventure will push you outside of your comfort zone as your tackle the challenge of conquering massive boulders and white water in the pristine beauty of a secluded rainforest watercourse. Wildlife including monitor lizards, snakes, birds and a array of colourful butterflies and dragonflies can be seen.
Crystal Cascades is in the tropical rainforest. It is one of the few places in the world where you can go Canyoning without a heavy wetsuit. It is easily accessible from Cairns and can be used year-round, unlike the seasonal Canyoning locations in Europe
What to wear:
Swimmers & a pair of board shorts

What to bring:
Waterproof sunscreen, towel, change of dry clothes, bag to put wet clothes in

We supply:
Padded activity shorts to wear under board shorts, helmet, socks, Canyoning boots, carabiners, harness, light lunch and cold water. Protective safety gear including Canyoning harness, helmet, shoes, long-sleeved thermal top for sun protection, neoprene shorts and a low-profile life jacket all padded to provide extra protection from the rocks.

Ability Level:
Designed for beginners and those who have tried Canyoning before.

Fitness Level:
Most fitness levels however you do need some fitness. It is also challenging. Those who cannot swim can still participate.

Prices are per person, including return transfers, all training & equipment and a light lunch
Half Day Morning and Afternoon tours:
6:30am or 12:00pm Pick-up from your accommodation (Time provided when booking).

Scenic drive to Crystal Cascades

After changing into Canyoning gear walk 20 minutes before arriving at the viewing platform

Safety briefing at Devil's Drop

Walk up 400 metres to the top of the course

Familiarise yourself with your gear while your Guides prepare the course

Descend into the canyon

Allow approximately 2 hours for your group to complete all sections of the canyon including 8 abseils, 3 jumps, 2 slides
and a very cool zip line with water landing!

Arrive at the viewing platform and make your way down towards the change area

Change into dry clothes and grab a quick bite before boarding the bus

1:15pm or 6:15pm Return to pick-up point
Note: Port Douglas tour includes a 10:00am pick-up from your accommodation. Free time in Cairns. Return to Port Douglas at 6:15pm approx.
GREAT NEWS! All bookings made through Travstar do not incur a credit card surcharge.