THINGS TO DO IN PALM COVE
Beyond the Melaleuca trees, palm fringed beach and relaxing coastal vibe, lies a vibrant village community. Palm Cove ensures a memorable tropical beach escape. World class award winning restaurants and spas line the Palm Cove Esplanade and are complemented by a host of other services and attractions. You will find great resortwear, fabulous galleries and shops for gifts and holiday essentials, masseurs, hair and beauty salons, car hire, health and fitness facilities. You can kayak around nearby islands, get wet and wild with watersports beach hire, enjoy the nearby golf course, or just laze on the beach.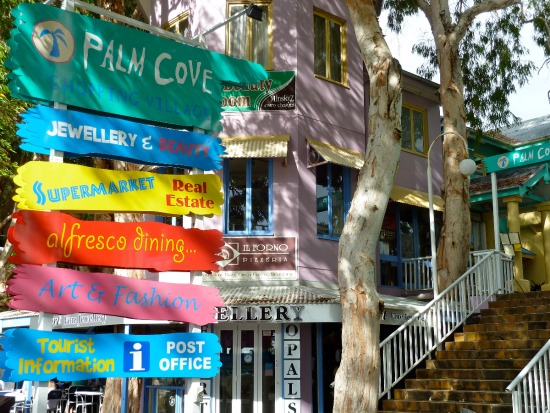 OUR TOP 10 THINGS TO DO IN PALM COVE
1. Double Island Sunrise Sea Kayaking
What a wonderful way to start the day with a 30min paddle at first light. Gently glide over the fringing reefs of Double Island waiting for those first streaks of sunlight to burst from the horizon. Once on the island enjoy some refreshments of fresh fruit and juices before trekking along the shore line looking for Blue Spotted Lagoon rays, Mangrove rays, Eagle rays, Shovel Nose sharks and an array of fish and crabs - not to mention the birds of prey. With the sun now glistening over the water start the journey back to Palm Cove whilst looking deep into the reef beneath. You won't be disappointed getting up early for this tour!
2. Spa Treatment
Known as the 'Spa Capital of Australia', no visit to Palm Cove would be complete without an ultimate relaxation spa experience. Palm Cove boasts many spas, each unique in their style and menu choices. Our favourite spa experiences include The Alamanda Spa located beachfront at the Alamanda Palm Cove; The Reef House Spa - Australia's most award winning spa, hidden within the tropical gardens of Reef House Resort Palm Cove; Peppers Beach Club Spa operated by Exclusive Spas that offers amazing treatments, ceremonies and spa rituals; and Doungdee Spa at Mango Lagoon Resort offering massage and nail services.
3. Beach Fun Hire
Being situated midway along the beach at Palm Cove, Beach Fun Co is central to all the action. Coast along beautiful beaches with a back drop of rainforest and cruise around nearby Islands. Besides jetski touring around the islands, items for hire include regular jetski hire, catamarans, paddle boats, stand up paddle boards (SUP), kayaks, boogie boards, sun lounges and umbrellas, as well as fishing boat hire. Activities to come include parasailing, tubing and windsurfer hire.
4. Apres Beach Bar Entertainment
Enjoy good live entertainment at Apres Beach Bar. There's always something happening whether it's a live act, Karaoke or the famous Crazy Pianos. Channel your inner rock star with over 5000 songs to choose from on karaoke, live performances with local and interstate artists appear regularly and don't miss Apres Famous Crazy Pianos. Crazy piano man will give his spin on many of your favourite performers. It's hilarious, energetic fun that you can't help but join in with!
5. Shopping
There's plenty of shopping to be had in Palm Cove with fashion boutiques, gift shops, a post office, supermarket and hair salons all dotted along Williams Esplanade. Don't worry if you arrive unprepared as there are many resortwear fashion boutiques to choose from, offering a large range of clothing, beachwear, shoes, bags, hats and accessories for ladies, men and children to suit our tropical climate. Brands include Seafolly, Jets, Baku, Speedo, Cooper, Orientique, Sun'n'Sand, Sundrenched and Havaianas. You can also find swim aids for the kids and inflatable water toys, sun creams, lotions, postcards and more.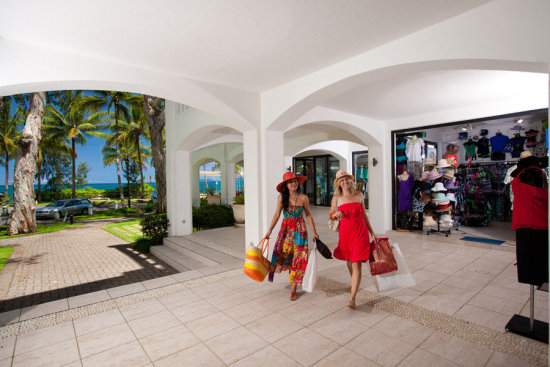 6. Fishing Palm Cove Jetty
One of Cairns' best fishing spots, Palm Cove Jetty, is excellent for a family fishing. The jetty extends 200 metres out to sea and anglers love fishing here as the narrow channel that runs between Double Island and Palm Cove is a haven for fish migrating from cool southern waters to the warm northern waters. The most common species caught from the Palm Cove Jetty is School Mackerel. In warmer months, anglers commonly catch Barramundi, Giant Trevally, Queenfish and sharks. It's an easy and safe place to enjoy fishing, grab an icecream from the food van at the end of the jetty, and have a yarn or two with some local enthusiastic anglers.
7. Fancy a round of Golf?
The Palm Cove Country Club's nine hole golf course winds it's way around a man made lagoon and is framed by majestic melaleucas and native flora. Club rental and motorised cart hire is available. Children 14 years and younger can play FREE with a paying adult! All facilities are fully open to the public and are regularly frequented by guests from other hotels and resorts in Palm Cove. Paradise Palms Golf Course is constantly ranked as one of Australia's best and most challenging courses, offering a combination of sweeping fairways, snaking creeks, six lakes, narrow undulating greens and 94 bunkers. Open to the public seven days a week, the course is a great test for golfers of all levels.
8. Palm Cove Reef Feast
Reef Feast is a gourmet food event held annually in October at Palm Cove. The weekend comprises of a number of events that celebrate the wonderful lifestyle of Tropical North Queensland, the magnificent Great Barrier Reef, and the diversity of our tropical and native produce. Meet celebrity chefs, enjoy tasting plates at the Gourmet Market Day, take part in a cooking class and celebrate the success of Reef Feast at Apres Beach Bar & Grill, with live entertainment and the chance to relax with friends.
9. SUP (Paddle Board) Yoga
SUP yoga is held every Saturday on Drift Resort's Lagoon Pool, Palm Cove at 9.30am – 10.30am. What is SUP yoga? SUP yoga will give a different dimension to your yoga practice. Practicing asanas (yoga postures) on the surface of the water is much different than on solid ground. Whilst the board is solid, the surface it is resting on isn't. When doing yoga on the water, your body has to work a bit harder to stay in the asanas, muscles tend to be tenser (to stop you from falling in!) and you need to be more aware of your core center (your center of gravity). Booking is essential, as classes are small (maximum 8 people) and they fill up quickly.
10. Pelicans in Paradise
Open to the general public for a small entry fee, Pelicans in Paradise comprises of a 25m lap pool on the terrace, toddler's pool, adventure playground and 18-hole mini-golf course. The adventure playground features a colourful, circus themed slide village and climbing frame, there are three "Queenslander style cubby houses", miniature soccer field with goals, a climbing spider, sand pits, swings, slides and a 21m jumping pillow that is great fun for all ages. The 18-hole mini-golf course is great fun for the whole family. The course is lit at night and is perfect for an after dinner activity on the school holidays. Paradise Palms Resort offers a comprehensive range of facilities including a 96-room resort, championship golf course, and modern clubhouse with a restaurant and bar.
OUR TOP 10 TOURS FROM PALM COVE
1. Quicksilver Cruises
Quicksilver is one of the best known Outer Barrier Reef cruises. Departing from Port Douglas (just 35 minutes from Palm Cove), this trip travels via a large wavepiercer catamaran to Agincourt Reef located at the very outer edge of the Great Barrier Reef. For people who aren't so confident in the water this is an ideal trip with multiple ways of viewing the reef without nessessairly having to get wet. All activities take place from a large stable pontoon such as snorkeling, diving, swimming, helicopter tours, semi-submersible tours and a buffet lunch.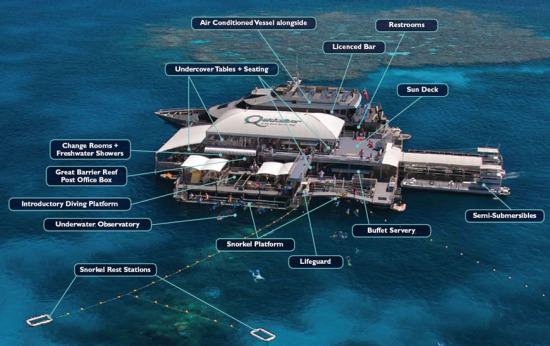 2. Ocean Spirit
Sail to the picturesque Michaelmas Cay for a day of snorkeling and diving on the Great Barrier Reef. Michaelmas Cay is a sand cay encircled by a spectacular fringing reef. This small cay is a National Park and a protected sanctuary for migratory seabirds. Limited permits mean that not many boats visit this spectacular site, so you may well have this beautiful sanctuary to yourself for the day. Activities include snorkelling, scuba diving and semi submersible tours. A buffet lunch is served onboard as well as tea, coffee and a complimentary glass of sparkling and cheese & crackers for the journey home.
3. Kuranda Gold Class
Kuranda Gold Class is a premium experience onboard the Kuranda Scenic Railway. Enjoy the comfort of club class lounge seating, drink and dine on locally produced delicacies and take an exclusive tour of the heritage listed Signal Cabin at Kuranda station. The Gold Class offers customers that extra comfort, little bit of luxury, and the most memorable experience. This service is offered from Freshwater Station and Kuranda Station. Enjoy your own free time in Kuranda Village. Most people combine this trip with a Skyrail experience.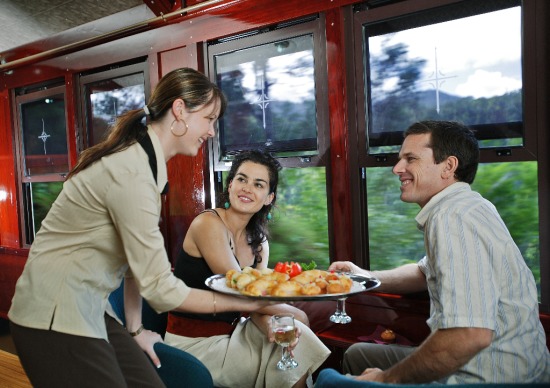 4. Green Island​
Just 45 minutes from Cairns by ferry is Green Island. This small coral cay (15 km2) is jammed packed with activities to give you the best experience of the Great Barrier Reef and unique National Park. Choose a full day or half day experience. Take a semi submersible or glass bottom boat coral viewing tour. Snorkel and swim directly from the sheltered sandy beach. Explore the island, history and wildlife along the self guided eco rainforest boardwalk. This trip is ideal for families, groups, couples, swimmers, non-swimmers and those with only limited time in Cairns, looking for a quick reef experience.
5. Hot Air Ballooning
What better way to start the day than with a sunrise hot air ballon flight over the Atherton Tablelands. Cairns has one of the best suited climates for hot air ballooning. Begin your day with a spectacular balloon inflation display, then rise up and float over the scenic Atherton tablelands and enjoy panoramic views over rainforest fringed mountains and tranquil country landscapes. Spot kangaroos and wallabies in the wild. This spectacular 30 minute Hot Air balloon ride is accompanied by an expert interpretive commentary with your pilot.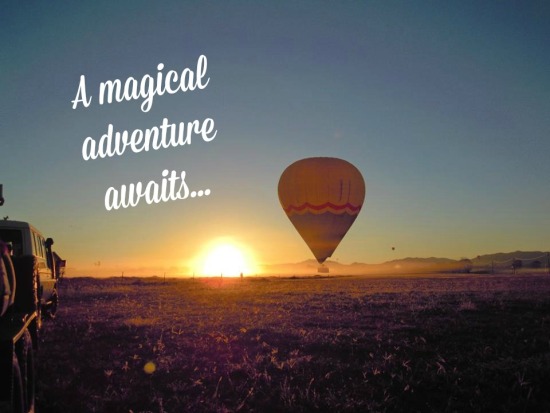 6. Reef Magic
Reef Magic Cruises operates daily to Marine World, an activity platfrom situated at the Outer Reef on the pristine north eastern end of Moore Reef. The all-weather Marine World platform caters for all activity levels whether you're a swimmer or non-swimmer, old or young, there is something for everyone to get the most out of their day on the Great Barrier Reef. Snorkel, scuba dive, or for those not so confident in the water, stay dry and view the reef from the semi-submersible reef viewer, glass bottom boat or the underwater observatory. This trip is also ideal for those prone to sea sickness, as you will be based on a stable platform for the day.
7. Billy Tea Bush Safaris
Billy Tea Safaris operate 4WD personalised tours to the World Heritage rainforest area of Cape Tribulation, Daintree and the Bloomfield Track. Highlights of the day include a Daintree River Cruise, panoramic views from Alexandra Range lookout, rainforest boardwalks, patting langaroos at Lync Haven and sampling a cup of traditional Billy Tea at pristine Emmergen Creek, where you can also have a refreshing swim in a rainforest stream. Your naturalist guide has extensive knowledge of flora, fauna, history of the area and aboriginal culture, which will ensure you day will be a memory of a life time.
8. Quicksilver Wavedancer​
Set sail to the Low Isles with Wavedancer. Situated 15km offshore from Port Douglas, the Low Isles is a beautiful coral cay surrounded by 55 acres of reef. Relax and enjoy one of Australia's most beautiful scenic coastal drives before boarding your luxury 30 metre sailing catamaran. On arrival at the Low Isles you will have free time to snorkel, take a glass biottom boat tour, explore the island or simply relax under a thatched umbrella. The corals are very close to the island which is a great for beginner snorkellers. Turtles are often spotted in the sheltered lagoon.
9. Flames of the Forest
Thirty minutes from Cairns and a world away from the everyday, Flames of the Forest is a magical, breathtaking, unique dinner experience. Choose from two unique dining experiences - the Aboriginal Cultural Experience or the Romantic Rainforest Dining Experience. The natural beauty of Flames of the Forest will enchant you as you step into this spectacular dining room where the rainforest comes alive at night. Enjoy an award winning menu and inspirational entertainment. Flames of the Forest will be like nothing else you have ever experienced!
10. Horseriding

Blazing Saddles Horse-riding tour offers a safe, relaxing way to meander through rainforest pockets, mangrove wetland, sugarcane fields and native bush! Suitable for all ages and levels. All their horses have a friendly, mature nature, and will be matched to each riders experience and ability. Draw up on horse-back alongside the 18 acre billabong for a billy tea over a camp fire, and the chance to see a croc in the wild! An Aussie BBQ sausage sizzle and bottomless tea & coffee included.