TRUSTED LOCAL BUSINESS
Our office is located here in Cairns and our team are experts on all the tours and activities available in Palm Cove.
We can help you choose and book the right accommodation, tours, holiday packages, Great barrier reef tour, attraction & events in Palm Cove.
Each month we book and look after hundreds of guests travelling to the Palm Cove.
If are looking for some advice, we are only a phone call away. We can help you find and book the ideal experience for your family & friends.
Call our local office and speak with one of our friendly consultants on 1800 663 396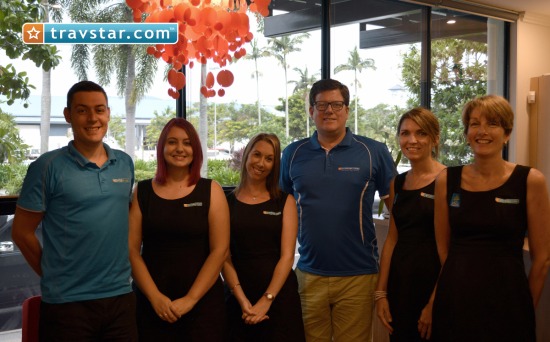 PALM COVE TESTIMONIALS
I appreciated the personal touch when replying to booking requests. I felt quite secure in purchasing from Travstar.
Posted By Leslie Holland
Sea Temple Resort & Spa Palm Cove
I have booked this lovely villa for me and my family for our christmas break. It had it all, charm, privacy and luxury. We all felt like at home and not in a tight hotel room. Furniture and bedding were of great quality/ the master bedroom is excellent. Thanks to Jodi who chose the place for me according to my specifications. He simply nailed it. He made the whole experience stress free as we had it all planned and booked well in advance. Travstar is a reliable, friendly, local and very efficient...
Posted By Nicolas Devic
Brilliant two days. Good value for money. Organised efficiently - everything went without a hitch.
Posted By Sheree Hopkins
Reef, Balloon, Raft & Daintree Package
Travelling solo and for a first timer, I was really, really happy with the whole experience. I am glad I booked with Travstar. I loved all the activities I got to do on the 11th of June 2016. One that I will never forgot. I am back in PNG now but already planning on my next adventure with Travstar. Thanks to Kelsi for the online booking and Natalie for your face to face customer service when I visited your office on Friday to make the payment. Thanks Travstar!! You guys Rock.
Posted By Mary M Anda
Travstar,I wish you all the best.Good job.I know I can rely on you and I will pass my experience to the others.
Jan
Posted By Jan Maszczyszyn